Posted by: michaelv 3 years, 2 months ago
The Christmas puddings at Coles are now being heavily discounted because they have been on the shelf for over 3 months, you know what that means... Christmas is just around the corner and with that it is also the end of another great year for Free Software Australia! As is tradition, the last meetup of the year is casual affair with dinner at Char Sui House in North Melbourne. No talks or pre-planned agenda, just an excuse to get together talk and have a great meal. Talk about the great things that have happened, things that concerned you and then move on to the great things that lay ahead in the world of free software in the new decade.
Just reposting a meeting summary from the mailing list I forgot to post at the time.
Hi folks,
Free Software Melbourne and Linux Users Victoria are celebrating the 16th annual Software Freedom Day celebrations in Melbourne and we're going to be hosting a series of talks about using Free and Open Source Software in the real world.
We're going to be talking about what even is Free and Open Source software and why is Free Software so important we want to dedicate a whole day to it. We're also going to talk about using free software for audio production, and how open source is used in the development of open hardware and some demonstrations of projects you could even build yourself. We'll also be having plenty of networking opportunities and introductions to many of Melbourne's Free and Open Source technology groups and organizations.
Entry is free any time and Software Freedom Day is a family friendly event welcoming to anyone, pass on the word to help make it a great day for everyone. We do have a code of conduct on our website, but in short: Be respectful. Be mindful. Work together.
We'll have light snacks and sodas available gratis throughout the afternoon and at the conclusion of the day we usually continue discussions over dinner along the nearby Errol st, so feel free to join us if you're enjoying the conversations.
Hope to see you all at Electron Workshop on the 21st for another exciting Software Freedom Day!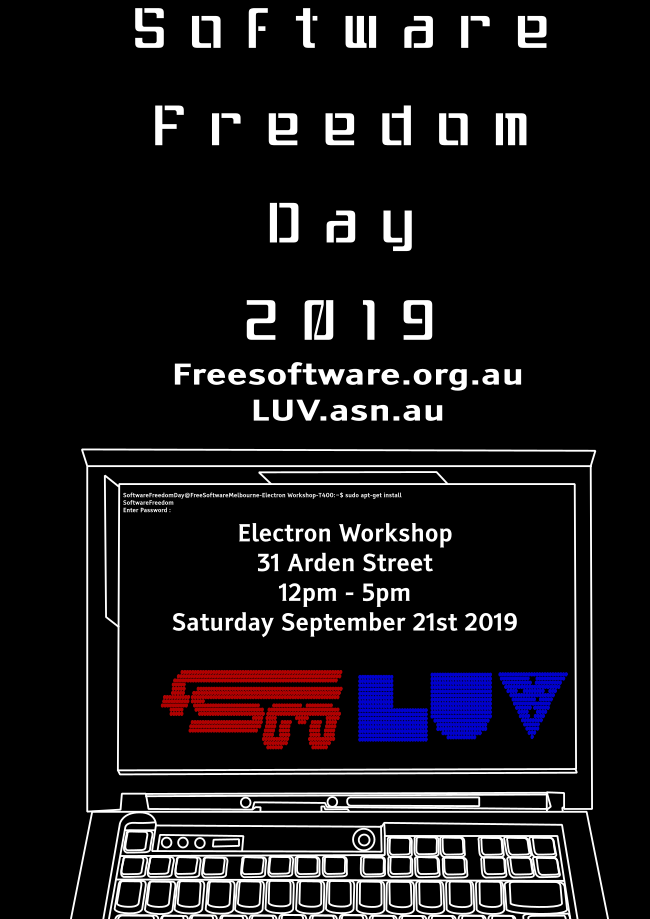 Details
Date: Saturday the 21st of September
Time: Talks starting at 1:00pm and wrapping up about 5:30pm
Location: Electron Workshop co-working space
Address: 31 Arden Street, North Melbourne
Map:
https://www.openstreetmap.org/node/2556615434
Travel Tips:
http://www.electronworkshop.com.au/map/
Parking: On street parking in the area
Code of Conduct:
http://freesoftware.org.au/code-of-conduct/
Software Freedom Day website:
http://wiki.softwarefreedomday.org/2019/Australia/Victoria/Melbourne/Free%20Software%20Melbourne%20and%20Linux%20Users%20Victoria
Time Table
1:00 - Welcomes and Introductions
1:15 - Paul - Why Free Software is Vital for Freedom
2:00 - Damien - Freedom for Musicians
3:15 - Open Source community get together
4:00 - David - Open Hardware
5:30 - Official event ending
6:00 - Dinner at Errol St